SERVICE
Wednesday Lunch Meeting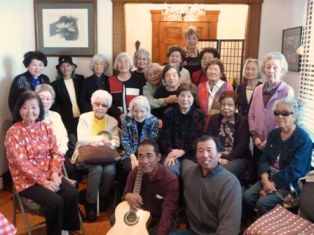 Wednesday Lunch Meeting
Sakura House is a meeting place where our seniors can come and socialize with friends & our volunteers in Japanese language.
Currently, we are open on Wednesdays between 11am and 2:30pm. Our seniors enjoy hot tea, snacks, and Japanese-style lunch our volunteers make. We enjoy Kanji or Proverb Quiz for brain exercise before lunch, and Craft Demonstration or Reading Aloud after lunch. Also, we sing Japanese folk & popular songs.
We provide an opportunity to make friends for Japanese speakers.
Let's come and join us in this "Chat in Japanese" club on every Wednesday !
When : Every Wednesday 11am – 2:30pmWhere : Sakura House
2829 4 th Ave., San Diego
Our Short-Term Stay Service

Short Stay
Senior Village Sakura has started a short-term stay service for seniors from Japan visiting their children or siblings and looking for a temporary place to stay during their visit. We offer a single-occupancy room with household furniture, a bed, a toilet, and a television set with 24-hour Japanese programming, as well as Japanese meals.
While many long- and short-term facilities and group homes for seniors exist in the United States, very few of them have helpers who speak Japanese, let alone offer Japanese meals. Not only seniors who have just arrived from Japan but also those who have been living in the States for a long time seem to find communication in English becoming harder with age, and find it more comfortable to communicate in Japanese. We have secured a room for these people so that they can enjoy their stay as if they were in their own homes. This service requires that the guests be able to take care of themselves. However, please consult us for people with light disability or mild dementia. This is a space where people who fear communicating in English can spend time comfortably. We are sure the families of the guests will have their minds at ease. Please contact us if you are interested.